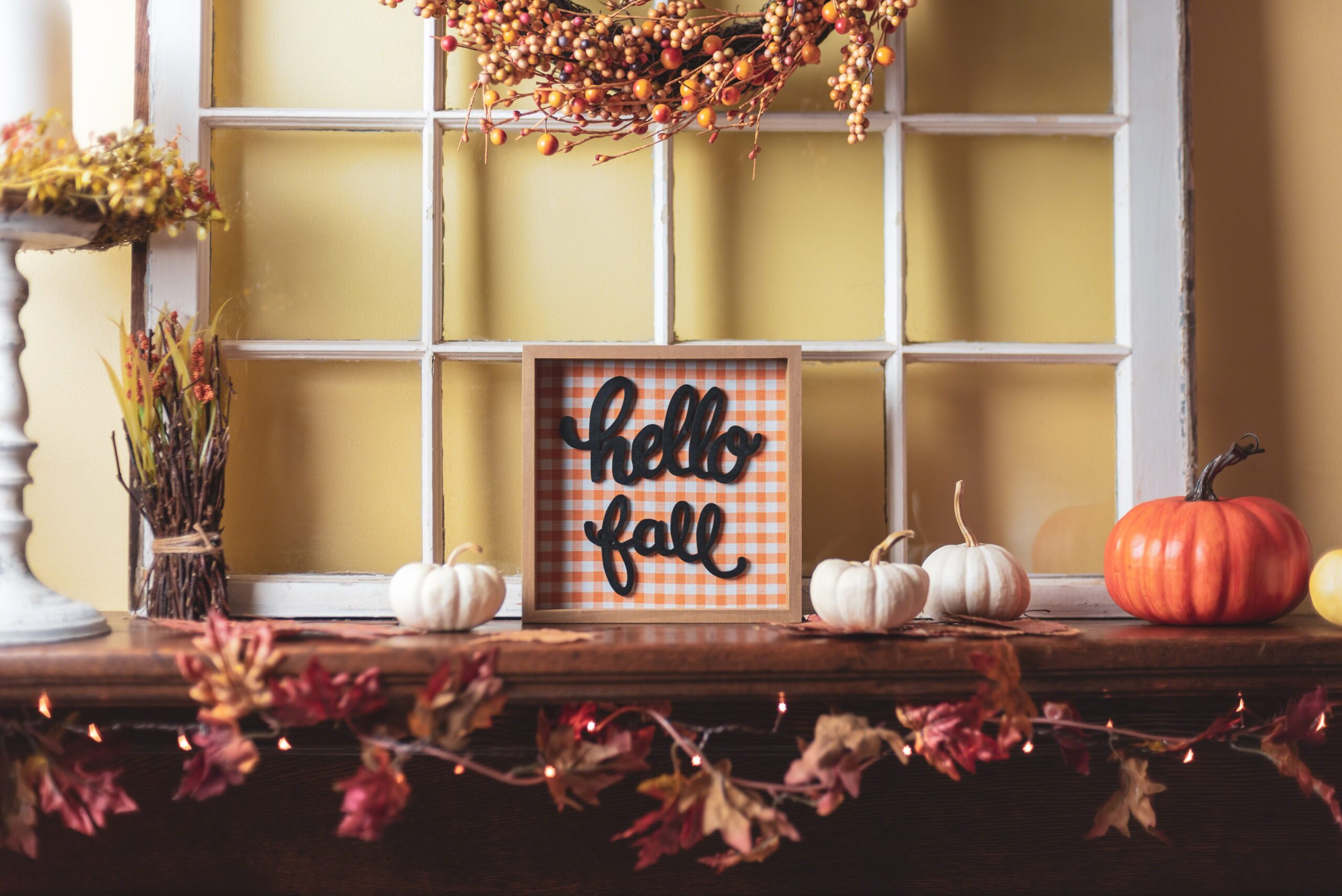 ---
Seasons change and so can the aesthetic of your home. There are many ways to decorate your space with a fall festive and warm feel. Whether you're looking for an elegant, statement-making fall arrangement for your table centerpiece or something on the casual side of everyday decor, you can surely find something on this list to suit your style.
1. Charming Table Centerpieces
Dress your table up for the season of home cooking. Table centerpieces draw attention and make a statement. For your centerpiece, you can choose to go as simple or as elaborate as you wish.
Take a container that best represents the season to you and fill it with all of the fall tones—whether that be fiery flowers, berries, leaves, pinecones, pumpkin, squash, apples, or gourds. You could even take out and replace pieces throughout the season to impress your guests with a new, stunning centerpiece each night.
2. Bewitching Mantelpiece Arrangements
Elevate nights around the fireplace with a fresh fall mantelpiece look. A garland isn't just a great ornament to hang at Christmastime; use the decorative braid to display pumpkins, leaves, or flowers. Then, layer it in autumnal hues and plaid accents to bring your display to life. A Halloween-themed mantelpiece could even include dark colors, candle holders, and cobwebs for a spooky delight.
3. Stylish Candle Holders
Keep your table or mantel spooky and bright with stylish fall candle holders. When it comes to creating a snug atmosphere, the aroma of a themed candle heightens the experience. It's only fitting to adorn your best fall candles with a candle holder that represents the season.
Candle holders come in many shapes, textures, colors, and designs. To suit the theme, a flora taper candle holder goes cleverly with your foliage decorations or a vintage brass candelabra brings a classic touch of beauty.
4. Personalized Autumn Signs
Prop up a sign to complete your modern fall decor. A welcoming autumn sign can add a touch of warmth and cheer to your home. Each little message portrays it loud and clear: The autumn season is here and let's celebrate! A fall sign like "Hey There Pumpkin" is a charming and amusing display for guests, whereas "Give Thanks" could leave a sweet reminder to express gratitude for the season.
5. Fall-Themed Pillows
Prep your sofa, bed, or outdoor seating for the season with a few festive throw pillows. Your guests need something comfortable to rest against, and there are endless fall-themed pillows to adorn and cozy up to — like harvest, leaves, plaid, pumpkins, and more designs. But when in doubt, a simple rich color, warm texture, or iconic pattern can spruce up the autumnal impression of your home.
6. Cozy Flannel Blankets
Nothing accentuates a throw pillow quite like a cozy blanket. Ultra-soft flannel blankets can be a focal point on your couch while also offering functionality for guests to use for warmth. Your choice of flannel colors and shades will depend on the rest of your interior decorations, but nevertheless, it will play off your fall decor by adding a timeless, cozy appeal.
7. Layered Rugs
Double up on rugs to create a richer and comfortable feel. Layering rugs is a design style where you place one rug on top of another. It makes your space seem more defined, warmer, and comfortable. When you're selecting the right floor coverings, you'll need to consider the thickness of each carpet, the colors, and the patterns to complement the room. A popular choice in layering rugs is to use a neutral base rug and overlap it with a smaller, textured rug.
8. Pumpkin Wreath
The outside of your home deserves a "fall" makeover just as much as—if not more than—the inside of your home does. Hanging the prettiest fall wreath on the front door and adorning your porch with holiday cheer shows guests exactly what's in store indoors and maximizes curb appeal. An assortment of miniature pumpkins and wreath frames can be found at local craft stores as well as artificial red, yellow, and orange leaves for a decorative arrangement you can create yourself.
9. Twinkling Outdoor Lights
Brighten your autumn mood with the best fall lighting. The lower temperatures allow us more time outdoors, and what better way to boost the ambiance than with illuminating features? String lights can be placed in many different areas, like on surrounding trees, a deck railing, posts, and more. Another neat lighting idea is luminaries along the walkway—which can also double as a pathway for trick-or-treaters to reach your doorstep.
10. Classy Halloween Decorations
Last but not least, 'tis the season of Halloween, which not only means dressing ourselves up, but our home too! Getting into the Halloween spirit does not mean you must go over the top with inflatables or frightening animatronic figurines. From jack-o-lanterns to cauldrons, there's room in your decor for just the right amount of eerie and elegant that can stay up all season long!
The design of your own home should embody your lifestyle. At Fairfield Homes, we can tailor your dream home to your preferences, whether a fully custom build or a partial custom build. Speak with a consultant today to get started on the home of your dreams!